"Grotto of the Helpless," Innsmouth Free Press, Issue 12, February 2013.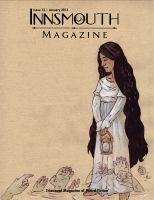 "Hempish Love," written with Gio Clairval, Polluto Magazine (issue 9&3/4), May 2012.
"Lisse," Coeur de Lion's Anywhere but Earth, October 2011.
"The Bringing Moon," The Colored Lens, September 2011.
"Becoming Normal," Flash Fiction Online, 2010.
"The Light Stones," Destination Future, Hadley Rille Books, 2010.
"Skinned," Absent Willow Review, 2009.
Nonfiction for Lightspeed Magazine: